Several years ago, Coscto carried a Raclette grill by Trudeau. Scott had memories of eating around a Raclette as a missionary when church members would have them over for dinner. Because of awesome memories, Scott bought one and we were excited to try it. The first thing we realized was that our fancy grill was only good for4-6 people. So we searched and purchased a second.
Amazon
carries them now.
Over the years we have have had several dinner parties centered around these table top grills. And they are dinner parties that are talked about for years and asked for a repeat.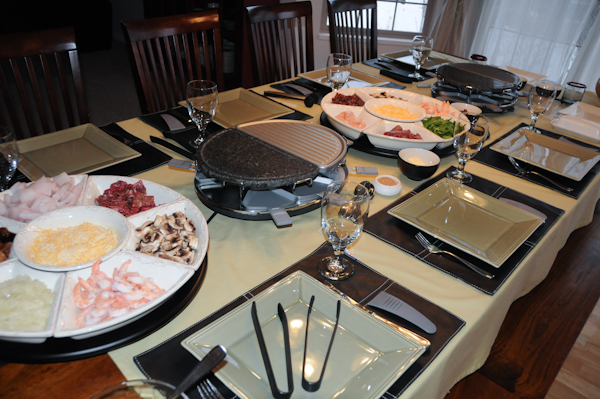 Here's how it works…
There is a granite side and a non-stick side of the grill and under the grill are individual non-stick pans.
The granite side is for beef and chicken, the non-stick side is for seafood and the bottom side is for the vegetables and anything else that you want cooked in cheese and butter.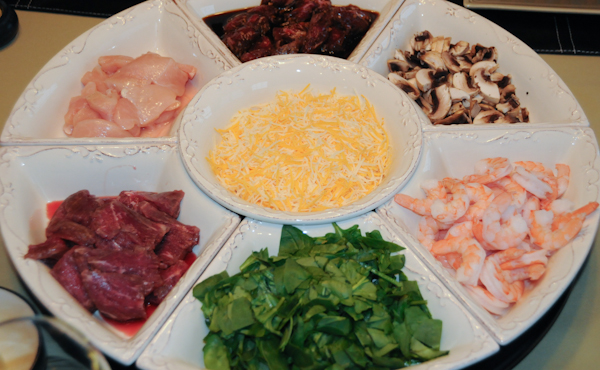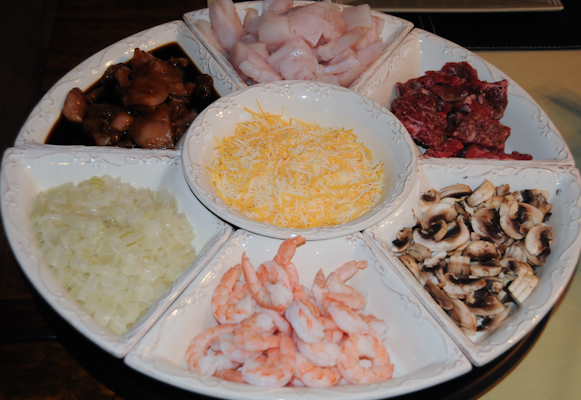 On our table we had plain steak and chicken, teriyaki steak and chicken, peppered steak, shrimp, halibut, grilled onions, mushrooms, spinach, sliced potatoes, steamed zucchini and steamed broccoli.
Everyone gathers around the table and cooks and eats and cooks and eats and cooks and eats – it is AWESOME. There has never been a time that it didn't taste amazing. Nor has there ever been a time that the conversation stalled. Every time we've done it, the kids eventually leave the table and the adults are left to continue indulging themselves with shrimp cooked in butter with some cajun or lemon pepper seasoning and cheese melted on top. Delicious. Even picky eaters or those with special diet needs can indulge and eat the foods they want with the seasoning that they like.
It is an all day ordeal/event. We started cutting and marinating 4 hours before dinner. Dinner takes about an hour from start to finish. Then after dinner, there are two dishwasher loads full of dishes and granite grill plates that are soaked and scrubbed before the grills can be put away.
A few pointers – only use tongs for the meat, have separate tongs for raw chicken, have two butters (one for cooking and one for spreading on rolls), DO NOT scratch the non-stick surface or your grill won't last you very long, use LOTS of butter. The last pointer – use olive oil on the granite slab while you are preheating it.
For $100 you can purchase a great tool that will be the source of dinner parties and excellent meals for years to come. Totally an investment in awesome memories.
PS – My Teriyaki Sauce recipe…
1/4 cup Kikkoman Teriyaki
3/4 cup Soy Sauce
2-3 tablespoons brown sugar
1 tsp garlic clove (minced)
pinch of ground ginger