Okay, so I only
hinted
about Jade's birthday party about 2 months ago, but I am finally getting around to sharing her birthday with you. As far as birthdays go, this is one that I am particularly proud of. Not because I am so awesome, but because she could not have been happier with how it turned out.
Much like
Ivy's birthday party
, I have a great deal of gratitude to my mom (and dad) for all that they did to make it truly amazing.
The theme that Jade selected was "Alice in Wonderland". She wanted to have her friends over and watch the movie and make personal pizzas. So that is exactly what we did.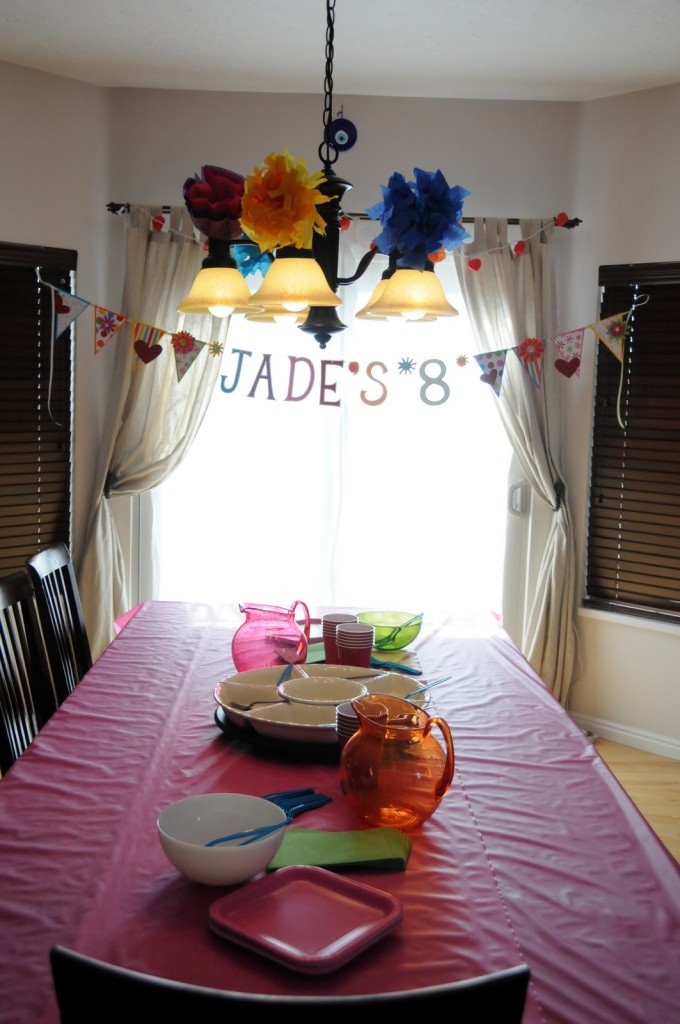 We decorated the house with big tissue flowers, hearts and bright colors. My mom made the very fun banner with her "

foster-cricut"

. (It is her friend's

cricut

but it lives at my mom's house). Then in the dining room I set up another photo booth to take pictures of the kids for their party favors. (By the way, The balloons were all done by "Balloons by Malloon"
As each of the children arrived, I had them select a

tea-cup

,

blue-bottle

or a cupcake to hold while they posed with the Mad Hatter. Some of the girls really

hammed

it up, while others sweetly posed and smiled.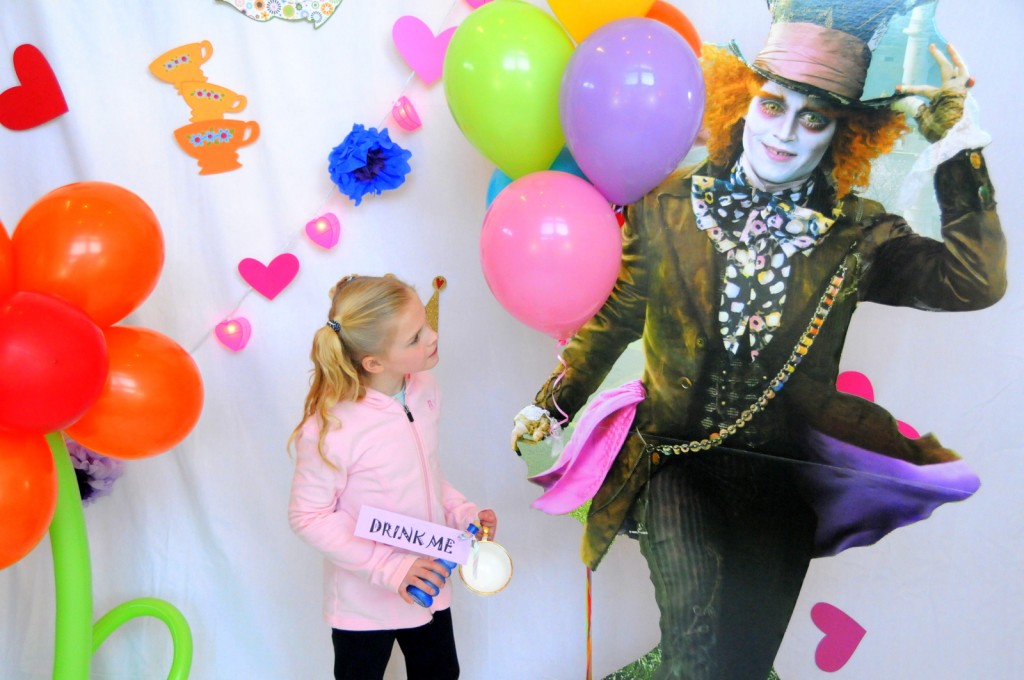 During the movie, I printed all of the photos and put them in the photo envelopes like you would get at a high school dance.
The kids had a kick creating their own pizza. A lesson I learned? Don't go overboard on the toppings. Kids want pepperoni, cheese and more cheese for their toppings.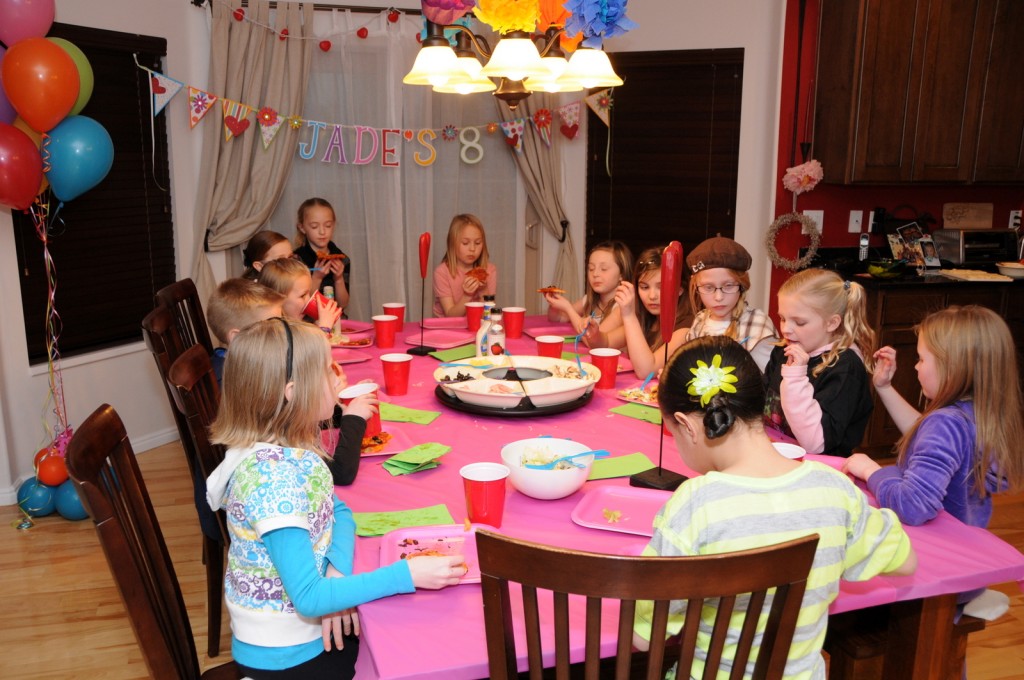 During the movie, everyone had popcorn bags, licorice, M&M's and bottled water. For the sake of my floor, I'm glad I did water. But maybe flavored water (like Propel) would have been a better option. The water mostly got sipped on and we were left with a bunch of

nearly full

bottles.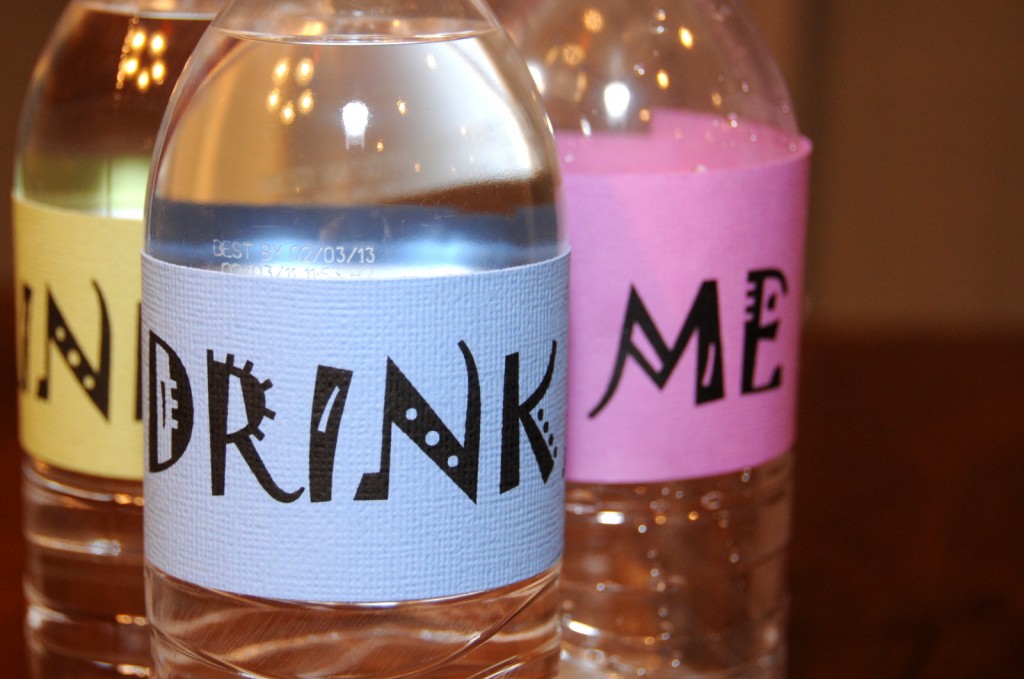 Half way through the movie we took a cake and ice cream break. I made basic white cake and basic chocolate cupcakes. The one thing I did to make them "Alice in Wonderland" like was to use my Rose pan from William-Sonoma and my Flower cupcake pan from Pampered Chef. Then I drizzled a LOT of white frosting on them and covered in bright-colored sugars.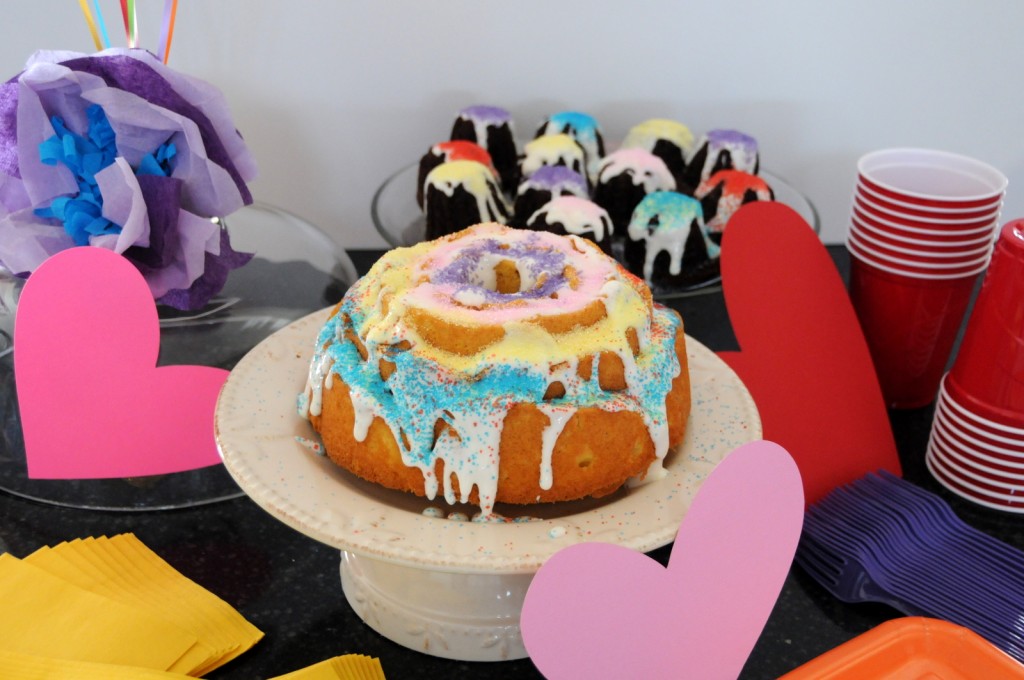 The movie ended just minutes before the parents started to show up to pick up their little girls.
Jade had a wonderful birthday party, she loved having her friends from school and dance come together and all get along like they had known each other for years. (I was really surprised at how well they all played and embraced one another. I was nervous about it and therefore had her limit her invites to those two groups).
The Tim Burton "Alice in Wonderland" was really great for 8 year olds. It isn't very scary, there are no inappropriate or sketchy scenes and the soundtrack is very fun. There were moments that they all did a bit of dancing.